Description
These operators let you transform coordinates and images between colour spaces, calculate colour differences, and move to and from device spaces.
All operations process colour from the first few bands and pass other bands through unaltered. This means you can operate on images with alpha channels safely. If you move to or from 16-bit RGB, any alpha channels are rescaled for you.
Radiance images have four 8-bits bands and store 8 bits of R, G and B and another 8 bits of exponent, common to all channels. They are widely used in the HDR imaging community.
The colour functions can be divided into three main groups. First, functions to transform images between the different colour spaces supported by VIPS: VIPS_INTERPRETATION_sRGB, VIPS_INTERPRETATION_scRGB, VIPS_INTERPRETATION_B_W, VIPS_INTERPRETATION_XYZ, VIPS_INTERPRETATION_YXY, VIPS_INTERPRETATION_LAB, VIPS_INTERPRETATION_LCH, and VIPS_INTERPRETATION_CMC.
There are also a set of minor colourspaces which are one of the above in a slightly different format: VIPS_INTERPRETATION_LAB, VIPS_INTERPRETATION_LABQ, VIPS_INTERPRETATION_LABS, VIPS_INTERPRETATION_LCH, VIPS_INTERPRETATION_RGB16, and VIPS_INTERPRETATION_GREY16.
Use vips_colourspace() to move an image to a target colourspace using the best sequence of colour transform operations.
Secondly, there are a set of operations for calculating colour difference metrics. Finally, VIPS wraps LittleCMS and uses it to provide a set of operations for reading and writing images with ICC profiles.
This figure shows how the VIPS colour spaces interconvert: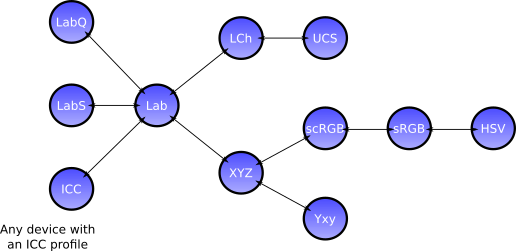 The colour spaces supported by VIPS are: